Obstetric fistula remains one of the daunting public health challenges in the Democratic Republic of Congo hence, a priority for UNFPA who considers it a human rights violation in line with the theme of celebration of the 2019 international day for the elimination of obstetric fistula "Obstetric fistula is a human rights violation-end it now!
Since the 23rd of May 2019, UNFPA is organizing a vast obstetric fistula repair campaign across several provinces of the country in a bit to leaving no one behind. This year 13 provinces are targeted for obstetric fistula repairs namely:  Kinshasa, Maniema, Haut Uele, Tanganyika, Sud Ubangui, Nord Ubangui, Tshopo, Sud Kivu, Nord Kivu, Ituri, Kasaï Central, Kasaï and Lualaba.
The new vision of UNFPA DRC Country office is to have in each of the 26 provinces of DRC, National Congolese expertise comprised of surgeons, anesthetists, nurses specialized in the comprehensive management of simple cases of obstetric fistula with a routine health care system while complex and complicated cases are referred to centers of excellence. To facilitate the work of these national experts, one general referral hospital in each province will benefit from reinforcement of its technical team as well as appropriate equipment.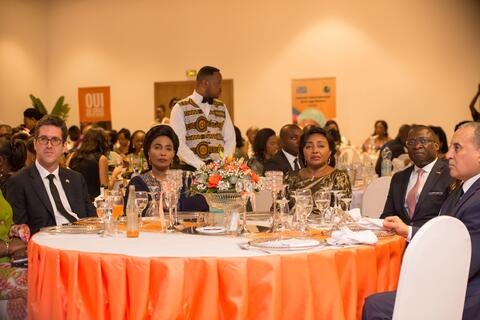 To realize this vision innovative strategies have been deployed such as the organization of a gala night to raise funds including the establishment of strategic partnerships with obstetric fistula centers of excellence. In this light, the country office organized in 2018 a gala night to raise funds in favour of women and girls suffering from obstetric fistula which was a great success.
Another gala night was organized in 2019 under the auspices of the First Lady of the Republic in partnership with the Ministries of Health and Gender and in collaboration with the Embassies of Canada, Tunisia and the Vodacom Foundation
Within the framework of the implementation of this vision, the country office seeks high level national expertise comprised of doctors and surgical teams from public hospitals such as The Panzi Hospital, The University Teaching Hospital (Cliniques Universitaire) as well as private hospitals such as St Joseph Hospital, Biamba Marie Mutombo Hospitals in Kinshasa. During obstetric fistula campaigns these expert doctors and surgical teams build the capacity of local doctors and their operation theater teams in the management of simple cases of obstetric fistula
A total of 1220 will benefit from obstetric fistula surgical repairs in 2019.  The success rate for provinces which have completed their planned campaigns is more than 95%.
A dignity kit composed of 1 loin cloth of 4 yards, a pair of sleepers, 4 underwear, 1 packet of sanitary towels, 2 bars of washing soap, 2 bars of bathing soap, 2 tubes of tooth paste, 1 tooth brush, 1 tea shirt and a 10 liters bucket with lid are donated to each woman or girl repaired of obstetric fistula on discharge from hospital followed by enrolment into a socio economic reintegration program