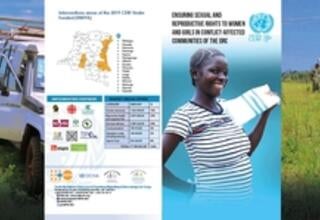 Ensuring Sexual and Reproductive Rights to women and girls in conflict-affected communities of the DRC
Beni, October 30th, 2019. In its efforts to strengthen the Ebola Infection Prevention and Control (IPC), the United Nations Population Fund (UNFPA) intensifies training of obstetrical personnel, especially midwives while reinforcing the extensive supervision system of medical staff. Some 180 midwives and other maternity staff (doctors, birth attendants) from more than 150 health facilities are already trained in Itu...
In the Democratic Republic of Congo, UNFPA is working with several partners to eliminate gender based-violence. There is a high-level commitment of the government to end this form of violence but also a strong partnership with UNDP, UNOCHA, CERF, Nations unies Droits de l'Homme, European Union, Canada, Sweden and Japan.