The commemorative activities of World Population Day 2019 started on Wednesday, July 10, 2019, with a press lunch in Kinshasa. The leaders of the professional press organizations (UNPC, the CSAC), the heads of the press organs and the journalists met to discuss with UNFPA the celebration of three major events that the Organization is celebrating this year.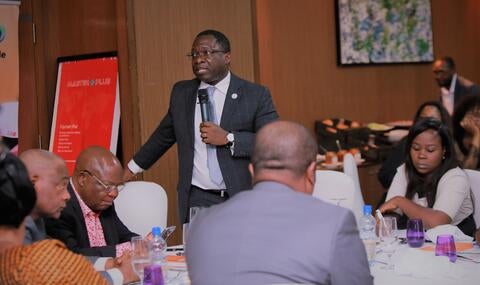 UNFPA Resident Representative Dr Sennen Hounton announced to the media the celebration of the WPD on July 11 under the theme "25 years of the ICPD: Accelerating the Promise", the 25th anniversary of the International Conference for Population and Development held in Cairo in Egypt in 1994 and the celebration of the 50th anniversary of the creation of UNFPA.
Dr Sennen Hounton asked the media for "a special gift" that journalists become "champions" of reproductive health rights issues. The media have a role to play in ensuring that the DRC accelerates the promise of Cairo and achieves UNFPA's three transformative results: ending the unmet need for family planning, ending preventable maternal mortality, and ending violence based on gender and harmful practices.
During this meeting, UNFPA Principal Technical Advisor (General Census of Population and Housing), Professor Pierre Klissou presented the roadmap for activities marking its 50th anniversary and the 25th anniversary of the ICPD. He also presented the 2019 World Population Report. The theme of the report is " Unfinished Business, the pursuit of rights and choices for all. In addition, census issues were also discussed. he DRC needs $ 200 million to carry out the second General Census of Population and Housing (GCPH2).
 Miss Lorence Kabasele, President AfriYAN Africa also shared with the media the activities that young people, members of AfriYAN DRC will undertake on their way to Nairobi. Activities like "My life in my pocket" and "Flasmob" are themes used to discuss the sexual reproductive health of adolescents and young people.