"I am a model for many girls in my neighborhood", said Ruth KALENGA, a 17-year-old girl met in Lubumbashi in the hair salon where she works after her training at the Raihman center in Lubumbashi supported by UNFPA, within the framework of the Kitumaini project.
She is a happy and hopeful young girl who confidently recounts her current and past situation in these words:
I was born into a family of 11 children. My father died when I was in 2nd year of high school. During this period, I became pregnant and we suffered with my child. I was informed about Kitumaini, I gave my consent and was enrolled and trained for free in Aesthetics at the Raihman Professional Training Center for 9 months. I learned a lot in the field of aesthetics, manicure and pedicure. Thanks to this training, I found a job in a hair salon where I earn $ 40 a month which I use to take care of my son and myself. With that, I am again proud of myself and hopeful for the future! "
Ruth KALENGA can talk about her life like this because she was lucky, like 1,100 other jobless single girl mothers who enrolled in one of the 13 vocational training centers rehabilitated, equipped and rendered functional thanks to the KITUMAINI initiative.
"Hope" in French, KITUMAINI is an innovative initiative for adolescent girls, one of the objectives of which is to increase the economic capacities of most at risk adolescent girls, in particular through learning a trade and facilitating their access to quality sexual and reproductive health services in order to protect them from all forms of abuse and exploitation and thus enable them to fully enjoy their right to health, well-being and dignity. The Initiative is currently targeting three health zones: (i) N'SELE in Kinshasa, (ii) RUASHI in Lubumbashi in Haut KATANGA as well as (iii) KARISIMBI in Goma in North Kivu.
Kitumaini, meeting the needs of a large generation of adolescents
In the DRC, adolescent girls like Ruth KALENGA are numerous. Indeed, the country has approximately 21,220,000 adolescents (10-19 years old), according to the National Institute of Statistics in a context where the median age at first sexual intercourse is 16 years (Demographic and Health Survey 2013- 2014).
This crucial period, for many girls unfortunately, is punctuated by many pitfalls: early or forced marriage, unwanted pregnancy, sexual exploitation and abuse, sexually transmitted infections including HIV/AIDS or alcohol abuse, drugs, illegal immigration, etc., forcing them to drop out of school; thus depriving them of the fundamental right inherent in every human being which is that of having a dream and seeing it come true. It is in this context that Kitumaini, an innovative multi-sector program is designed primarily to give hope to adolescent girls.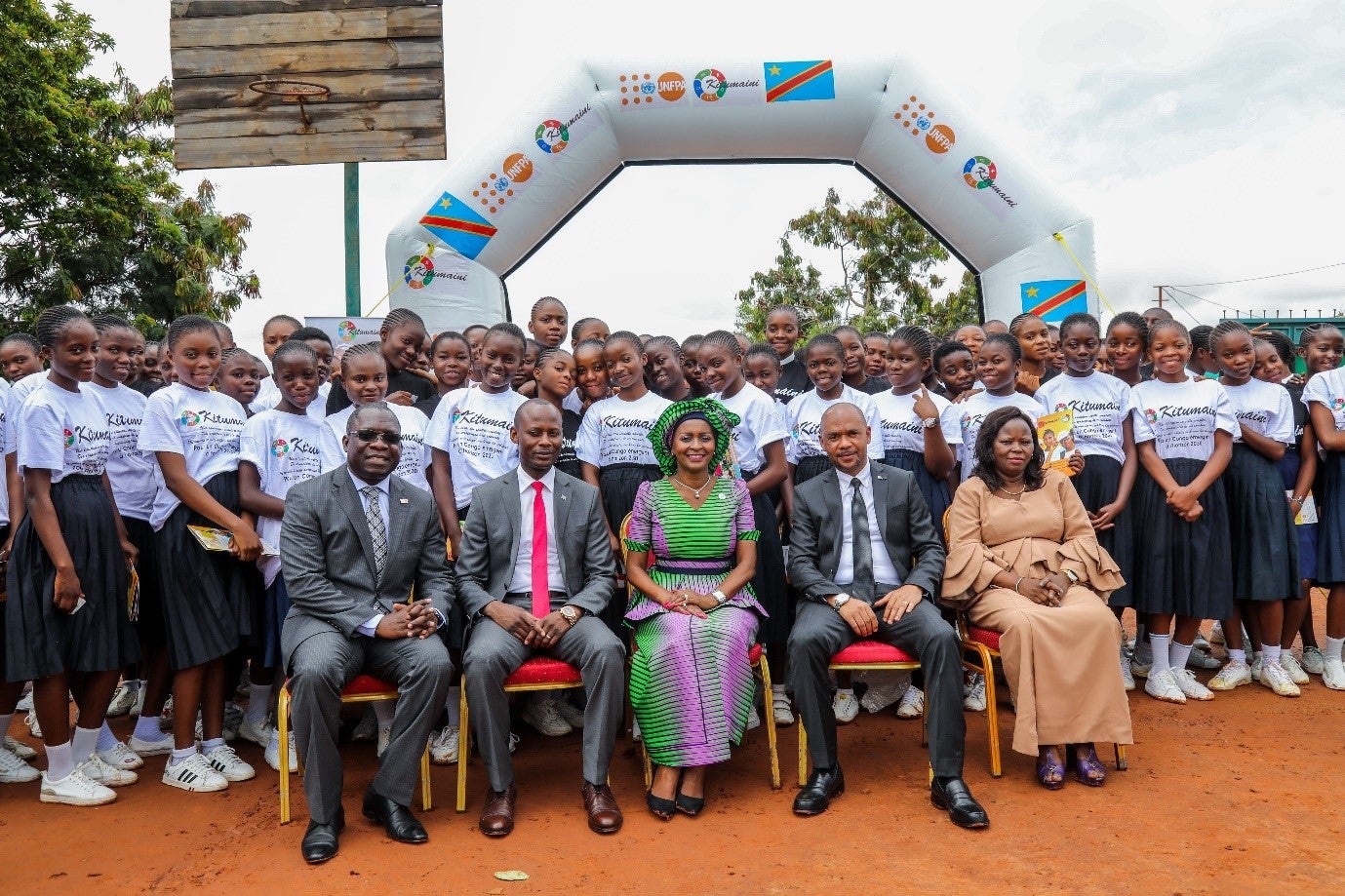 Kitumaini in a nutshell
Kitumaini, is an initiative which means hope in the Swahili language. It is an innovative multisectoral program intended to give adolescent girls the means to stay in school as long as possible and for those excluded from the education system to regain hope through vocational training and socio-economic reintegration.
Kitumaini focuses on the human capital of girls in school and out of school and enables UNFPA in partnership with UNESCO to support the Government to operationalize the concept of human capital "Ten-year-old girl". The initiative is designed around three (3) pillars:
• The integration of comprehensive sexuality education / family life education in the curriculum of primary, secondary and vocational education
• The development of life skills enabling adolescents and young people to make informed decisions on the same.
• Access to quality sexual and reproductive health information and services adapted to their specific needs, in health facilities located near the schools and places of residence of these young girls
Kitumaini was launched in June 2018 and is functional in Kinshasa, Lubumbashi and Goma. This initiative is a contribution to investment in the human capital of adolescent girls as a lever for development. It targets as a priority the health zones where the magnitude of early pregnancies is the most worrisome in the Democratic Republic of Congo.
Funding is provided by Canada, Sweden, KOICA and DFID. At the operational level, the initiative is supported by communities, schools, vocational training centers and health structures in a targeted health zone, working together and in a synergistic and complementary manner.
Kitumaini in numbers
• 60,000 adolescent girls have accessed quality care and services adapted to their needs,
• 18,000 pupils, boys and girls aged 15-17 years old have received comprehensive sexuality education both in and out of school,
• 70 secondary schools and 4 vocational training centers have integrated family life education into their teaching program;
• 13 vocational training centers for young single girl mothers have been rehabilitated and equipped,
• 1,100 young girls have learned a trade while receiving comprehensive sexuality education.
• 17 health facilities have integrated sexual and reproductive health services adapted to the needs of young people into their care and service package.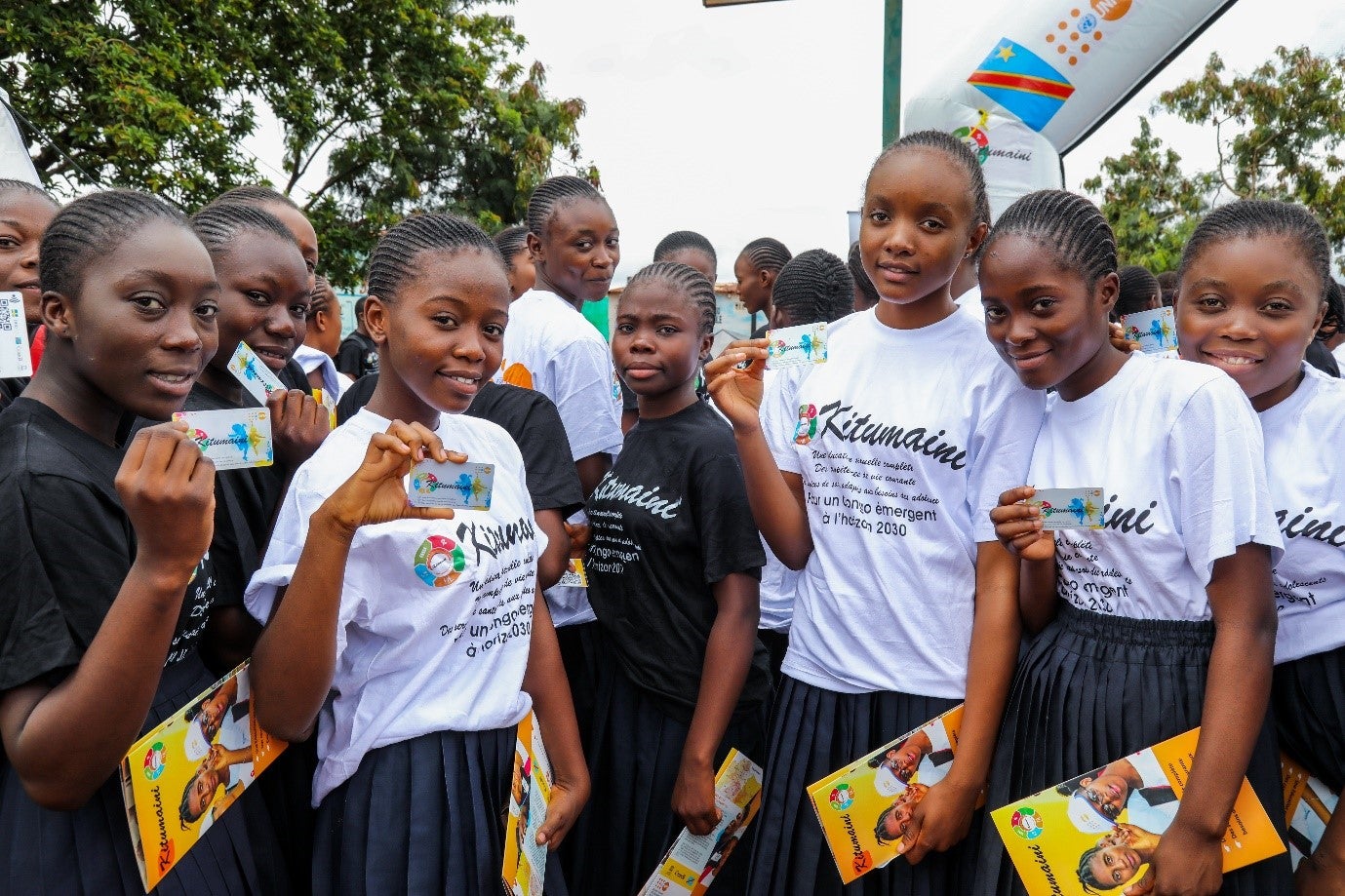 Leave no one on the side of the road
By analyzing the life trend of a teenage girl like Ruth Kalenga, we note that she comes from a large, poor family and her life is negatively influenced by an unwanted pregnancy and that she drops out of the school system which reduces her opportunities. Nevertheless, with Kitumaini initiative, she regains hope and dignity and becomes a model in her neighborhood.
This shows how the Kitumaini initiative can bring light to the live of adolescent girls for whom everything was almost lost. It gives hope to those whose family conditions deprive them of many opportunities.
These adolescent girls, more than 1,300 others who lived in conditions similar to those of Ruth Kalenga have been taken care of in training centers. This approach targeting the most vulnerable girls contributes, according to Dr Sennen HOUNTON, the Representative of UNFPA in the DRC, to the United Nations Objective of working to leave no one on the side of the road.
According to him, Kitumaini contributes to
an increase in the capacities and skills of most at risk adolescent girls and facilitates their retention in school, their access to income-generating activities, quality sexual and reproductive health services in order to prevent them from all forms of abuse and exploitation and thus enable them to fully enjoy their right to health, well-being and dignity".
Combining several strategies to address the needs of adolescents
Kitumaini chose the option of investing in the human capital of adolescent girls as a lever for development. As such, it combines several strategies. In addition to vocational training, girls receive life skills enhancement and comprehensive sexuality education.
Adopting comprehensive sexuality education is fundamental in the context of the DRC where the majority of girls do not have the basic amount of information about their sexuality while they are sexually active. Ruth Kalenga speaking about the training she received affirmed that, "We learned the menstrual cycle and how to calculate the fertile period when I knew nothing about it."
Finally, the initiative facilitates access to health services adapted to the needs of adolescents and girls, enabling Ruth to make an informed choice of a modern contraceptive method and to benefit from free sexual and reproductive health services.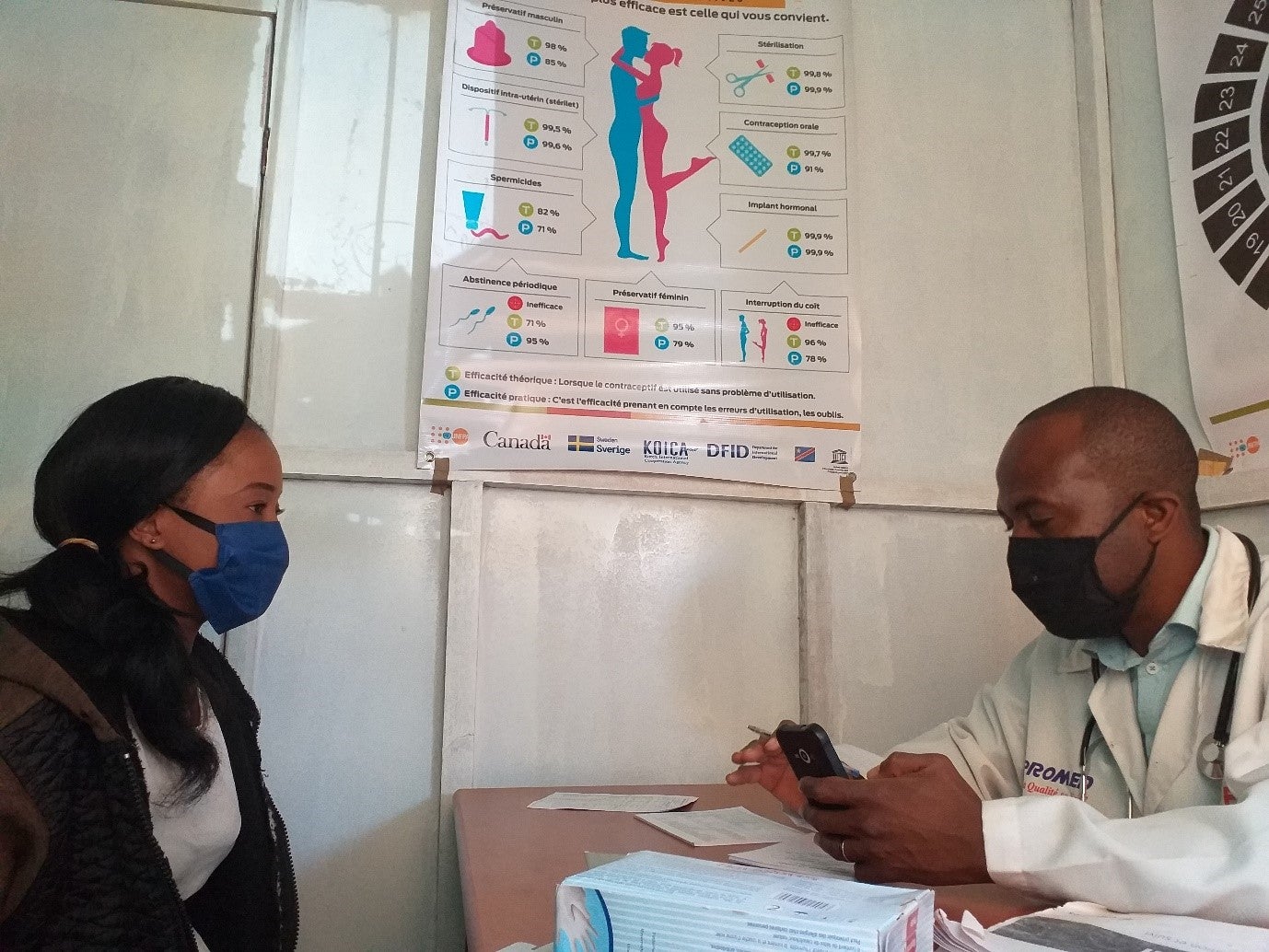 With Kitumaini, hope is restored for millions of adolescent girls and young women in the DRC like Ruth Kalenga. It is therefore, indispensable to continue to develop and expand this initiative which is essential for the empowerment of the girl child, her self-esteem and flourishment including her contribution to the socio-economic development of the country.
Teachers and health workers are committed towards the Government for the success of Kitumaini. It is in this light that the Chief Medical Officer of N'Sele health zone conveniently stated during a meeting:
For me, Kitumaini, 'is a reference; we also want to make a difference with Kitumaini".
It is strongly recommended that as Kitumaini continues and expands so as to give hope to millions of young girls like Ruth Kalenga.