UNFPA: Delivering a world where every pregnancy is wanted,
every childbirth is safe and every young person's potential fulfilled.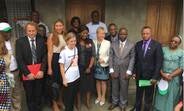 11 March 2016
Visit by Swedish Minister of Foreign Affairs
The Swedish Minister of Foreign Affairs, Margot Wallström, has today been on an official visit to Libondi Health Center, Bubmbu Health Zone, on the occasion of the project Enhancing sexual and reproductive health of...
Papa Wemba avait chanté pour la Planification Familiale en R.D. Congo

Sustainable Development Goals Explained: Good Health and Well-being
No Publications available.